MINI RETREAT OP HET FRIESE PLATTELAND
Mindful – Matters organiseert in samenwerking met Suzan van de Roemer en Chantal Soeters een weekend-mini-retreat in Friesland. Een mini-retreat betekent 3 dagen lang ontspanning, rust en aandacht voor jezelf. Laagdrempelig, vrolijk en inspirerend ben je bezig met bewustwording. Op het programma staan verschillende en toegankelijke meditaties en laagdrempelige activiteiten om het weekend mindful te beleven. Maar ook: goed en puur eten, bij het haardvuur zitten, door het bos wandelen en goede gesprekken. Of juist stilte als je daar even aan toe bent. Ontspanning en plezier dus. En of je nou een beginner bent op het gebied van meditatie of niet, dat maakt niets uit. Het gaat erom dat je je kunt laten meevoeren om te kijken hoe het van binnen met je gaat. Dat je met een opgeruimd hoofd en wellicht nieuwe inzichten zondagmiddag weer naar huis rijdt. Tijdens het weekend bereiden we eerlijk en echt eten. Door bewust en gevarieerd te eten voel je je immers fitter. En natuurlijk kan dat samengaan met een goed glas wijn. Het programma is helder en overzichtelijk zonder moeilijk gedoe. Juist niet want dar houden wij niet van. We houden ook rekening met voldoende vrije tijd en ruimte voor jezelf, mocht je daar behoefte aan hebben.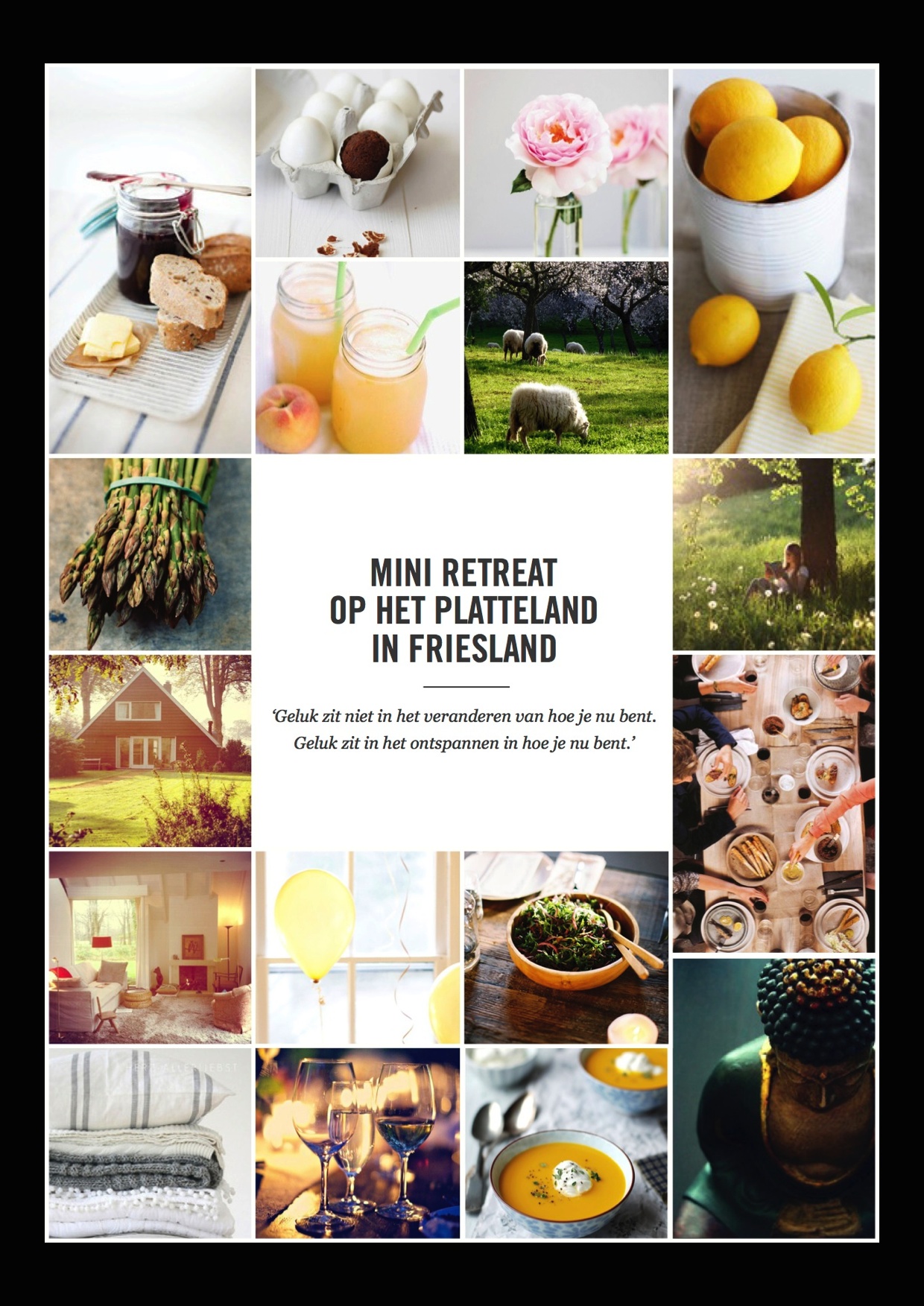 Praktische info
Datum:
vrijdag 18-19-20 juli
Kosten:
€ 295,- p.p.
Excl. eigen vervoer van en naar de locatie.
Op basis van een gedeelde kamer, maar we zorgen ervoor dat je voldoende privacy en comfort hebt.
Voor wie:
Voor iedereen die op een ontspannen en comfortabele manier een weekend aandacht aan zichzelf wil geven. Voor iedereen die bewustwording zoekt. Een weekend weg met een beetje extra dus. Je kunt alleen komen of met een vriend of vriendin, alles is goed.
Aantal personen:
min. 6 – max. 8
Trainer & chef cuisine:
Suzan van de Roemer*
Chantal Soeters*
Voor meer informatie en/of inschrijving:
Bel of mail naar Suzan van de Roemer
email: suzan@mindful-matters.nl
tel: 06-535 100 12
*Suzan van de Roemer is gediplomeerd Mindfulness trainer, Meditatie begeleider & therapeut en MindfulKids trainer.
*Chantal Soeters is yoga docent, foodie en health coach. Beide helpen mensen gezonder en bewuster in het leven te staan.