Grød & Granola- Copenhagen is the place to be for food lovers. You can get amazing food almost everywhere. There's a buzzing restaurant scene and you can get a mean breakfast or brunch all around the city.  Two things that keep coming back on almost every breakfast menu is porridge and granola. If you are looking for the best places to try out porridge or granola in Copenhagen, there's two places you must visit, Granola and Grød. I fell in love with the wholesome and hearty breakfast served at Granola in Vesterbro. Even though we had to wait in line for half an hour, it was worth every second of our time.  I couldn't resist taking a few bags of their lovely homemade granola back home and I am still enjoying it with my breakfast today. Granola is very popular place to share breakfast with friends or family. We ordered a selection of small dishes, buffet-style, and delicious dark purple berry smoothies. We got toast with homemade chocolate paste (delicious!), soft boiled eggs. pancakes and a perfect granola with fresh fruit and skyr (high-protein Icelandic yoghurt).
Breakfast is a big deal in Copenhagen. Ever since my trip to Copenhagen I have been obsessed with making my own granola and porridge mixes for breakfast. Grød in Nørrebro is the place to be for everything you want or need to know about porridge. I have been making my own porridge for a while now and I love porridge, but Grød takes porridge to a whole new level. They take porridge very seriously here. Porridge is super healthy, high in fiber, rich in protein and full of vitamins and minerals, but also hearty, delicious and warming. The basis for a good porridge is using high-quality ingredients, such as organic whole grains, seasonal fruits and naturally dried fruits. During my visit to Copenhagen I had to visit Grød. It's all about porridge here. I was completely amazed by this place. I haven't seen anything like it before and I fell in love with it immediately. I even went back the next day to visit Grød's stall in the city's market, Torvhallerne, so I could buy porridge toppings to take back home to Amsterdam. If you ever get bored with your daily bowl of oatmeal, Grød is the place to go. They offer so many options to choose from, all very creative and absolutely delicious, from 'sweet' breakfast porridges to hearty risottos and vegetable 'porridges'.
If we have lost the art of making porridge, porridge is definitely making a comeback. So many countries around the world have for centuries served some variation of porridge at breakfast, based on whole, ground, crushed, or chopped grains or pseudo-grains like quinoa and millet. Think of congee, a porridge made with rice, vegetables and sometimes chicken, which is very popular in Asian countries. Or, Kasha, buckwheat porridge, which is very popular in Russia. In Scandinavian countries, groats, a porridge made from unprocessed oats or wheat, is popular. In Mexcico, you can find porridges made with corn or rice, both sweet and savoury. Italian risotto could be considered porridge too. Krentjebrij, is an old-fashioned sweet Dutch porridge made from barley cooked in berry juice with raisins, fresh berries and cinnamon. I am happy to see that Grød is trying to revive the tradition of eating porridge. Many people might not get very excited thinking about porridge, especially if you only too familair with the bland, quick oats I grew up with.
At Grød, you can expect exciting new combinations in terms of taste, aroma, texture  and flavour. We came to Grød to try out new variations on breakfast porridge. We arrived soaking wet from a long bike ride through town. As soon as we entered Grød, we felt like we were stepping into someone's living room. It's quite tiny and has a cosy feel to it. We shared a table with some other people enjoying breakfast. Arnout ordered oat porridge with skyr, apple vanilla compote and topped with granola. I ordered rice porridge with fresh pear, roasted hazelnuts and tarragon sugar. Both were absolutely delicious.
At Grød's market stall I bought a wide range of porridge toppings, such a freeze-dried cherries and rhubarb. Coming back home, I was completely inspired by the passion and creativity of the people behind Grød and I have been creating different styles of porridges every morning. I started mixing up different kinds grains and experimenting with different levels of processing. I started  cooking my cereals in different kinds of milk (both plant-based and dairy). I have also experimented with fruit and vegetable juices, which add so much flavour go the porridge and really enhance the flavour of some of the grains.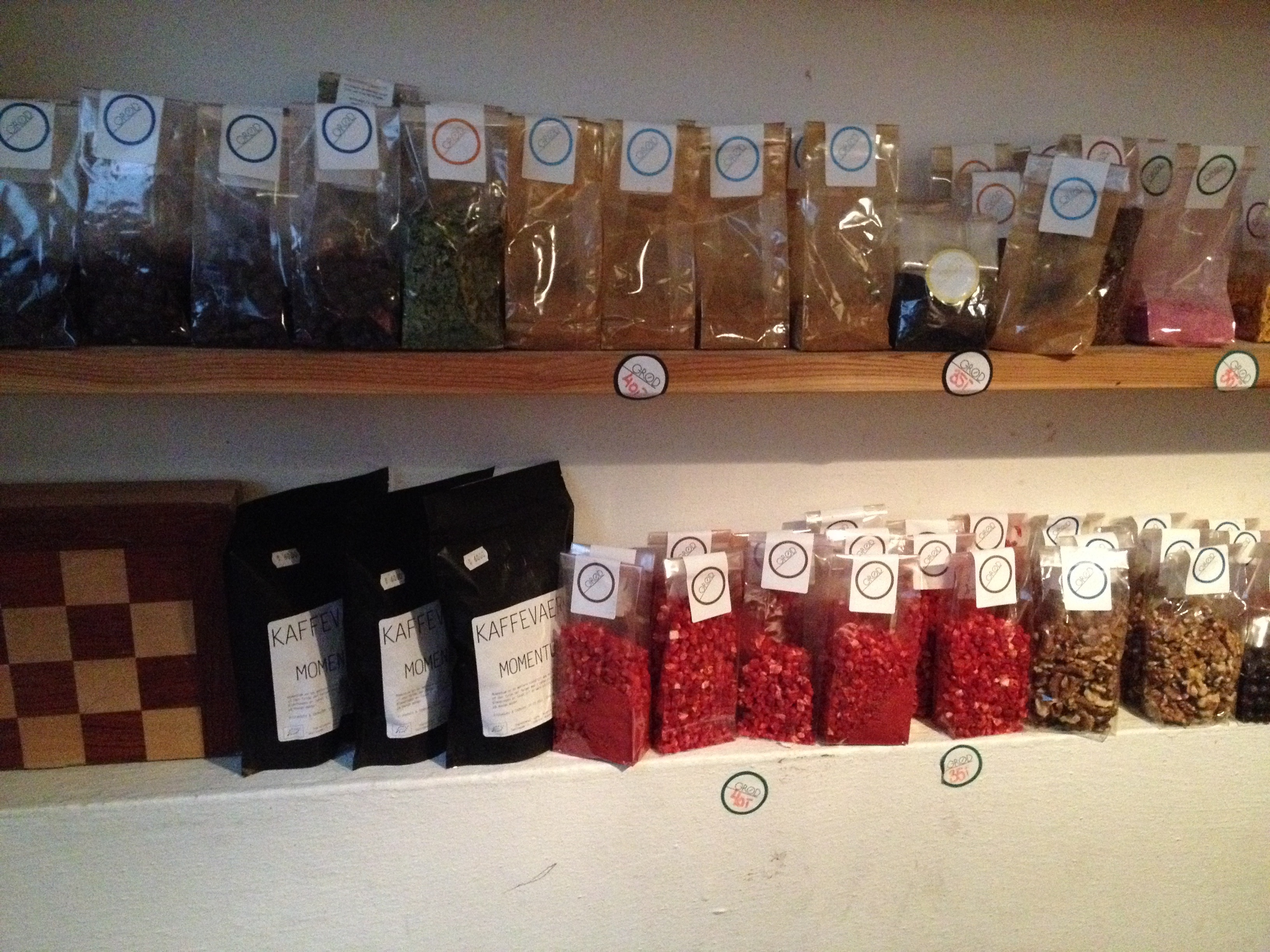 I have also been using different toppings, including homemade fruit compotes, jams, natural sweeteners, liquorice syrup. fresh and dried fruits, freeze-dried berries and powders. The possibilities and combinations are endless and I will be sharing many of my favourite recipes online soon. I love exploring different ways of cooking porridge, combining different and lesser known grains and getting creative with porridge toppings. My current favourite way of eating porridge is parfait-style, one layer of hot porridge, topped with fresh quark or yoghurt and topped with another layer of fresh fruit (pears, apples, persimmon) and then, last but not least, finishing off with crunchy granola. It has crunch, creaminess, heartiness, freshness and beautifully balances warm and cold.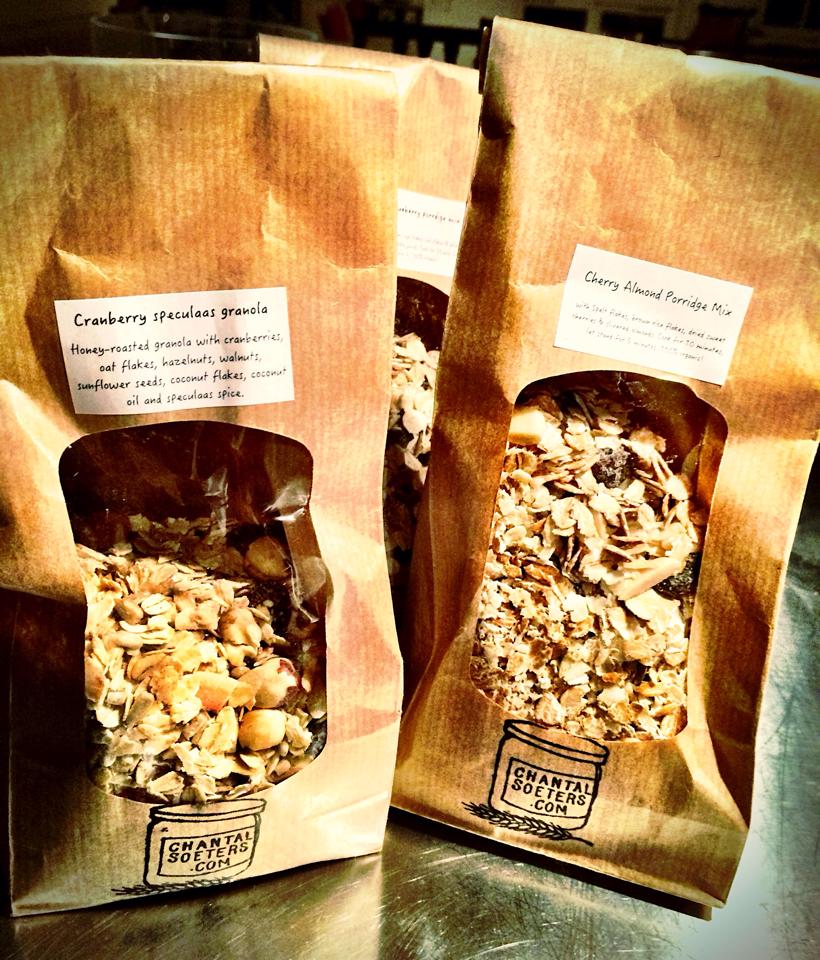 For the recent SFAM (Sustainanable Art and Food Marketplace) in Amsterdam, a meeting place of artists and food lovers selling their homemade products, I decided to sell my own homemade granola and porridge mixes. Inspired by my trip to Copenhagen, I created two different porridge mixes (with nuts and dried fruit) and two kinds of honey-roasted granolas. I spend the last three weeks blanching and roasting nuts, seeds and grains.
 I love porridge and granola but this project was driven by much more than that. It's so hard to find healthy and delicious granolas and porridge mixes in stores. Most granolas are loaded with sugar and the porridge mixes, if you can find them at all, lack creativity. If you want to give yourself a healthy and energizing start of the day, you want to take charge of your own breakfast. Skip all the sugar and create your own breakfast using beautiful, whole food ingredients. Start mixing things up! Variety is not only the spice of life but also the formula for good health. By mixing up the grains and pseudo-grains,  fruits, nuts, seeds, milks etc. in your diet, you provide your body with a wide range of nutrients. So get creative in your kitchen, make your own porridge and granola and start mixing things up for breakfast!