I recently participated in a cooking workshop at De Librije. The focus of the workshop was on creating tasty and creative meals with vegetables as the star of the menu. The workshop at Librije's atelier encourages you to look at vegetables in a new way and teaches you interesting methods and techniques. The workshop showcases just how versatile and delicious vegetables are. I love it when chefs make vegetables the star of the menu. We first enjoyed a delicious lunch at Librije's Zusje, the little 'sister' of three Michelin starred restaurant De Librije. The menu at Librije's Zusje is creative and offers a great choice of vegetarian dishes. It is not easy to find a good restaurant that serves innovative and creative food without placing meat or fish at the center of a dish. I love food and I love my veggies, but, frankly, I often find traditional vegetarian restaurants boring and uninspired. Even though there are some gems in Amsterdam, such as Marit's huiskamerrestaurant or Vermeer I believe Amsterdam needs more restaurants where vegetables are the star of the menu. Cooking with vegetables often lacks creativity but eating your greens does not have to be a boring or bland taste experience. As UK chef Simon Rogan says "Vegetables are far more interesting and versatile […] Cooking vegetables creatively shows a lot more skill and imagination than turning out meat-and-two-veg".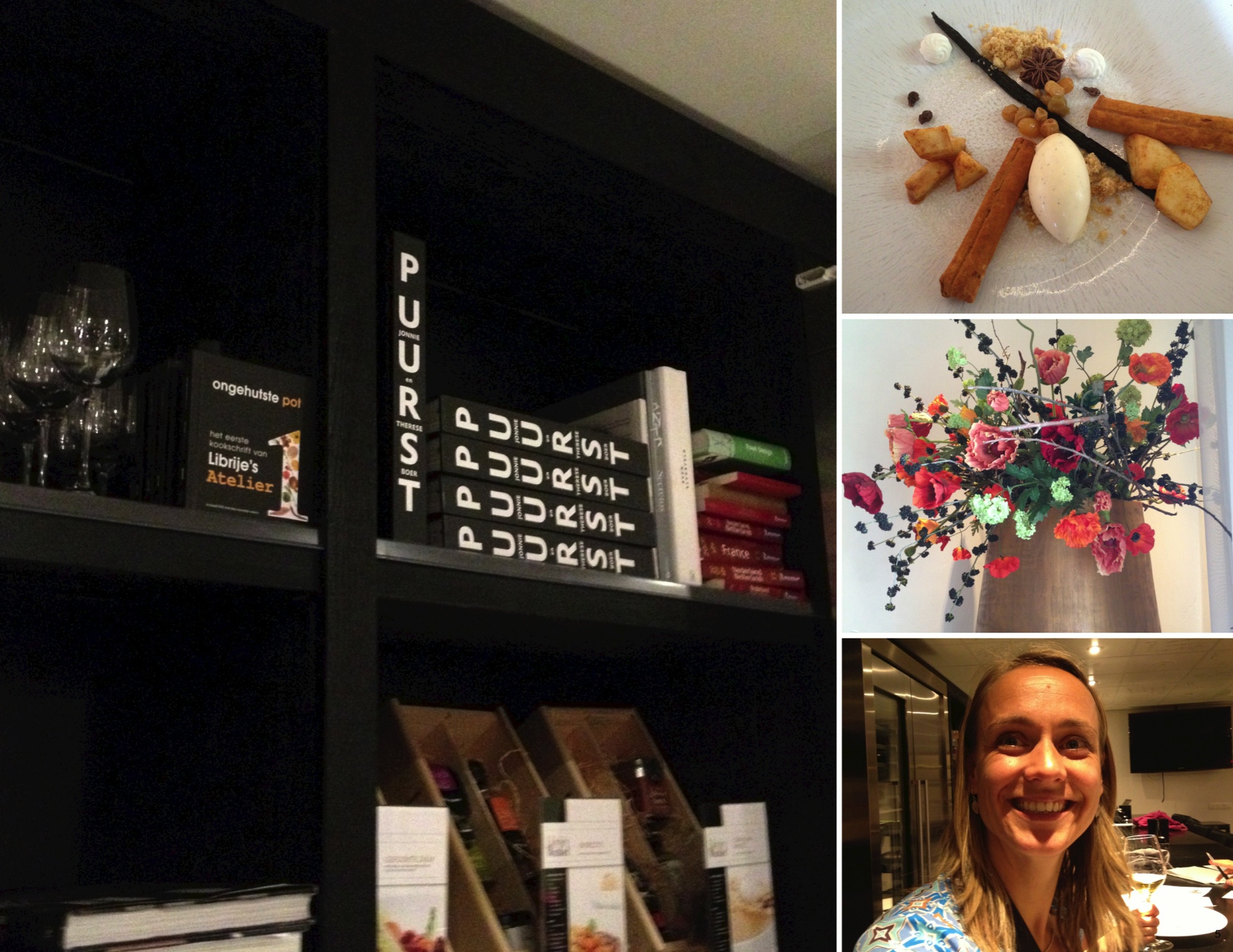 Some Michelin-star chefs have started to revolutionise the way food is being served. Instead of serving vegetables with the mains, they put vegetables center stage in exciting and innovative ways. Chefs like Christopher Naylor (Vermeer), Simon Rogan (L'Enclume), Dan Barber (Blue Hill). Alain Passard (L'Arpège) or Ottolenghi are a huge inspiration to me. Even though most of us know how good eating veggies is for our health, vegetables are often underrated and they rarely play a main role in a dish. Creative chefs, like Naylor and Rogan, demonstrate in their vegetable centred tasting menus that the flavour and texture of vegetables can be absolutely incredible. I particualrly love Naylor's signature dish at Vermeer, a vegetable casserole with a broad pallet of seasonal vegetables, which are individually prepared using different techniques to bring out the most of the vegetables when it comes to flavour, color and texture. Chefs like Naylor and Rogan take their inspiration directly from nature and spend many hours on nearby farms to source the best produce for their menus. Michelin star chefs like Naylor and Rogan clearly know their way around the kitchen but most home-cooks find themselves at a loss cooking without meat or fish. Here's where the workshop at Librije's Atelier comes in. Most of the people that signed up for the workshop weren't vegetarians and many of them only ate meals where vegetables were served as a side dish to meat or fish. Creating a tasty meal without meat or fish proved to be a challenge for most of them. If you are newer to cooking with vegetables, this workshop is a great place to find out how easy and delicious cooking with vegetables can be.
As we mainly cook veggies at home, I hoped to get inspired to cook up new dishes at home, to take my food to a new level and to learn new techniques to experiment with in my own kitchen. The workshop is co-organised by Variatie In De Keuken (VIDK), an organisation which cultivates awareness about the huge impact food can have on our health but also on our planet. Before we started, Natasja Kooiman from VIDK introduces the concept behind 'Variation in the Kitchen'. In short, she encourages us to eat better and more sustainably. Many people are unaware of the huge impact the meat and dairy industry has on our planet. Not only has a high consumption of animal products been associated with an increased risk of diabetes, heart disease, cancer and many contemporary ailments; the production of meat and dairy also has a huge impact on our planet. To meet the high demand, animal farming world-wide has intensified with significant consequences for our environment. It has not only caused serious soil and water pollution, land and water depletion but also contributes global warming. Eating your greens and reducing your intake of meat is not just a way to stay healthy; it also lowers your impact on the environment. If you want to find out more,  read more about Slow Food International "Too Much at Steak" campaign here.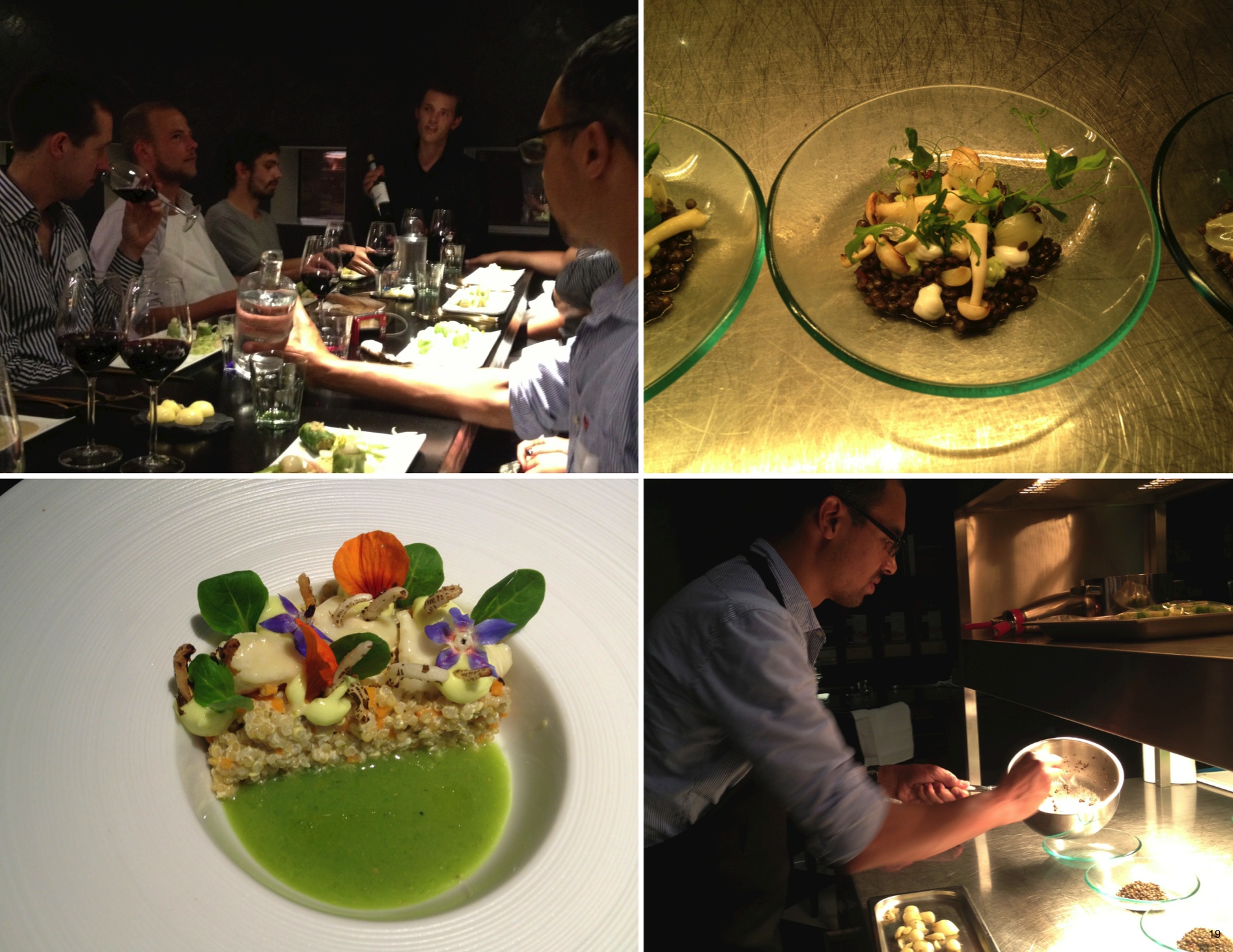 At our home, plant-based foods are at the center of each meal. I am a strong believer in eating mostly plants. Eating more veg and less meat truly is one of the best things you can do for your health. Vegetables and fruits are nature's richest sources of vitamins, minerals, and fiber. They also rich sources of bioactive compounds known as phytochemicals with  powerful disease-fighting and anti-inflammatory properties. Eating healthy really is quite simple. Michael Pollan has summed up beautifully: "Eat real food. Mostly plants". At least half of our plate is always filled with a great variety of vegetables. Our meals are simple but delicious. We buy local and seasonal produce as much as we can and use only the best and freshest ingredients possible. Besides the many health benefits of eating plants, we also consciously choose to reduce our intake of animal products, such as fish and dairy, to lower our impact on the environment.
Signing up for Librije's cooking workshop, I hoped to get inspired by new techniques and exciting flavour combinations for cooking with vegetables. I believe daily food should taste just as spectacular as fine dining but should not require spending long hours in the kitchen or complicated techniques. Before we start cooking, we listen to a short introduction by Jenneke Boer, chef at Atelier de Librije, who shows us what we will be cooking and also explains the pressure points of each dish. We are meant to cook up a four course meal. In order to do so, we are divided in small groups so there's always two people working together on one or two dishes. I make the spicy De Puy lentils with a cilantro yoghurt creme, confit shallots and a mixed salad. I also make a lovely Lychee ice cream. I love how serious everyone gets as soon as we start to cook. Everyone is working really hard and doing their very best to put great food on the table. I love the energy of preparing a meal together and then enjoying the results. You enjoy food so more when you are part of the food preparation. The best part was tasting each other's food and sharing the food we created together. We had plenty of time to enjoy our meal together and each course was paired with a beautiful wine.
I must admit I loved stepping into a commercial kitchen. The kitchen at Librije's Atelier is a food lover's heaven. It's so spacious and it contains just about everything a gastro nerd's heart desires: big green eggs for roasting, grilling and making bread and pizza. Juicers, vacuum sealing machines, Silpat baking mats, piping bags on the roll, blow torches, sous-vide machines, ice-cream makers and I could go on and on. I would love to have a professional kitchen like this at home as cooking in my small apartment in Amsterdam can be quite a challenge.
Apart from being in a commercial kitchen, I really enjoyed meeting people with a similar passion for food. I have stayed in touch with some of the people I have met and we occasionally run into each other at food-related events.  I also loved picking up some new ideas for preparing vegetables at home. For example, we were taught a very easy and quick way of making vegetable stock by juicing pre-cooked vegetables and then using a kitchen towel to strain the vegetables juices, so you are left with a beautiful clear stock. Or a way of cooking lentils by frying up some shallots, garlic and carrots with herbs and spices first and then adding lentils and stock to intensify flavour. I also fell in love with the subtle yet incredible taste of the confit shallots that were prepared sous-vide. I loved how blow-torching raw mushrooms quickly browns the mushrooms giving them a beautiful color but without sacrificing their lovely bite. Or learning how the dress a plate in such a way that all flavours balance each other and all different of textures, layers and colours work together. I could go on and on. In short, lots of things to learn and play around with. If you are interested in cooking with vegetables, I can highly recommend this workshop.